In Pink
Years before Harlem reared rapper Cam'ron began rocking pink like some kind of uptown Mary Kay cosmetic chick, the hue belonged to my man Jesse Johnson who chose the color after Prince opted for the purple material. Back in the day, when I still lived in Washington Heights and watched BET in the middle of the night on UHF, it was all about Prince and the synth-funk-rock of the Minneapolis sound.
It seemed as though every few months a different side project (Apollonia 6, The Family) was launched or another disgruntled employee (Andre Cymone, Terry Lewis & Jimmy Jam) was striking out on their own. As a fan of Prince and everything he ever touched or influenced , I felt obligated to buy them all. At the height of my fandom in 1984, the same year
Purple Rain
was released, Jesse Johnson broke away from The Time, holed himself up in the studio and crafted his dope debut
The Jesse Johnson Review.
Released in 1985, the album contained "Be Your Man," "Can You Help Me" and "I Want My Girl," songs I played continuously in my cluttered bedroom.
Last January, when
Wax Poetics
editor-in-chief sent me an email telling me about the special Prince issue they were planning, he asked who I'd like to interview. The first person who popped into my mind was Jesse Johnson, and I figured I'd go through a Google search and try to track him down. Yet, as luck would have it, a few days later my friend Dyana Williams, a Philadelphia disc jockey who co-hosts the weekly Soulful Sundays with Derrick Sampson on 100.3 WRNB, blasted on Facebook that Jesse was going to be on her show.
Calling her a few minutes later, Dyana introduced me to Jesse's manager Mark via email that same day. Mark told me Jesse would be playing at the Hard Rock Cafe over MLK week-end. While the venue was a strange place for a concert, and the headliner was a little awkward in the beginning, Johnson soon got into the groove and it was funky sailing. Unfortunately, about an hour into his set, the Hard Rock decided it was time for us to leave and killed Jesse's sound in the middle of the show.
Although forced from the stage, Jesse refused to be bum rushed from the backstage area. For the next hour he signed autographs, took pictures with fans and chatted with everybody as though we were all friends and family. Outside it was one of the coldest nights of the winter and a ice storm was brewing, but backstage I was smiling from the warmth that radiated from the people in that room, especially Jesse.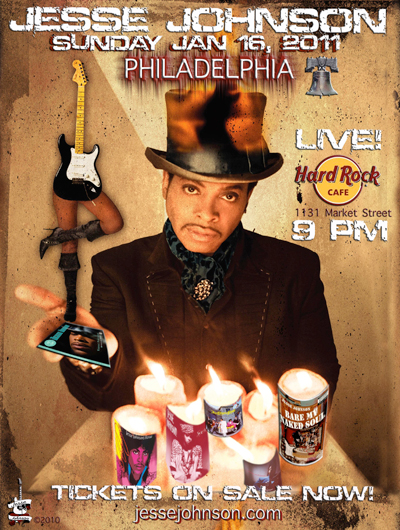 The following day, Jesse and I sat in Dyana's townhouse, where she prepared us lunch, and talked about his life and career. For 90 minutes, Jesse talked about guitar craft, living with Prince, playing on the road, experimenting in the studio, working with filmmaker John Hughes, his friendship with engineer Susan Rogers, recording the then-new Time (Original 7ven) album and jamming with his old Newport smoking friend D'Angelo--who he is currently playing with in Europe. Although not as long my previous
Wax Poetic
pieces on Barry White, Nina Simone and Curtis Mayfield, one of Jesse's favorite guitar players, he was generous with his time, straight-up with his answers and gave me the interview I had imagined since the eighties.
Prince fans who peep the cover of the new and improved
Wax Poetics
(or,
WP
) are bound to be excited by the
1999
era photo of the purple maestro. Shout-out to fellow scribes Miles Marshall Lewis (Madhouse), Erika Blount (Andre Cymone) and Dean Van Nguyn (Morris Day), who have all been waiting patiently for this issue to rear its pretty face.
http://www.waxpoetics.com/blog/news/...ar-anniversary
Jesse Johnson:
http://www.jessejohnson.com/index.html
Labels: D'Angelo, Jesse Johnson, Philadelphia, pink, Prince, Wax Poetics